Happy Holidays
A downloadable game for Windows and macOS
Happy Holidays is a strategy board game where the aim is to be the first player to travel around the map and complete all your holiday activities. But watch out for the police!
This game was inspired by my dad, who created Happy Holidays as a physical board game for us to play as a family when I was younger!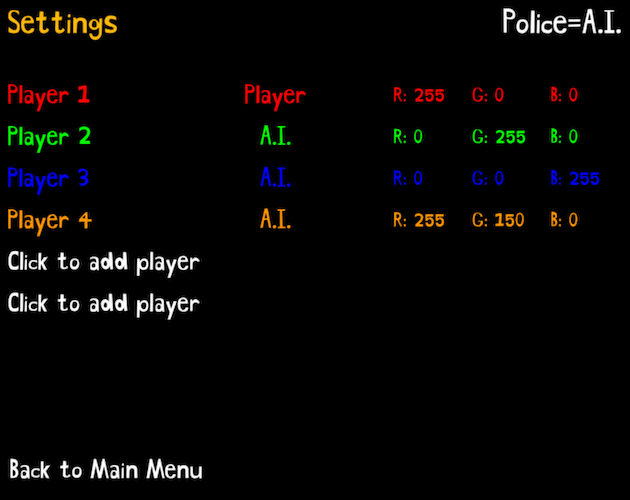 Choose your settings

Customise how many players there are (1-6)
Choose whether each player is operated by a person or the A.I.
Choose whether the police is operated by a person or the A.I.
Customise the RGB colour of your token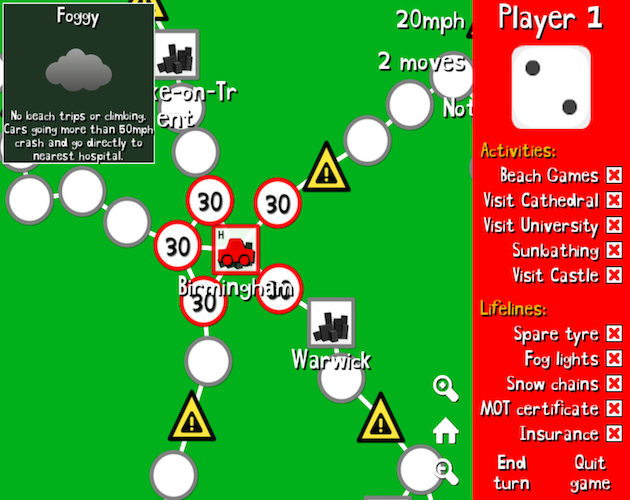 How to play

Before the game begins you will be assigned five holiday activities and a starting location at random.
Begin your turn by rolling the dice. This will determine the speed of your car and how many moves you can make. (Watch out: red spaces have a speed limit of 30mph!)
You can view where you can complete activities by clicking on them.
When you reach one of your destinations and attempt to do an activity the weather will change. If you're lucky, the weather might be good enough. If you're unlucky, it might even snow! (This is England/Wales after all).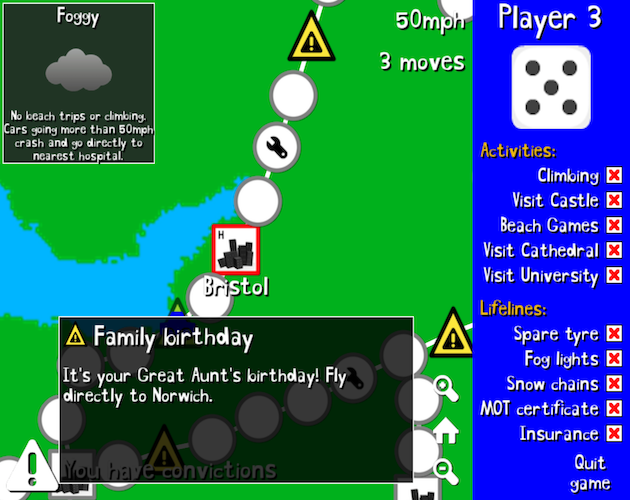 Hazards & Service Stations

The yellow & black triangles are hazards. These have predominantly negative consequences. You might be held up in traffic, get a flat tyre, or fly somewhere else for your Great Aunt's birthday!
The black spanners are service stations. These have predominantly positive consequences. If you're lucky enough to find snow chains you can even drive safely in the snow!
I hope you enjoy our family game... happy holidays!
Download
Click download now to get access to the following files:
happy-holidays-win.zip
6 MB
happy-holidays-mac.zip
17 MB